12 Weeks to Publication Workshop
By Dr Maina Portella Garcia
In late October, WREN hosted an academic writing online workshop. The workshop was free to all members and non-members and was delivered by Hugh Kearns from iThinkWell.
On the day we had about 60 attendees from Australia, Vietnam, Malaysia, Thailand, Indonesia, UK and Brazil. In this interactive workshop, Hugh presented extremely valuable information and tips on how to get a paper published. He started by presenting a range of myths about writing; You would not believe how many myths we tell ourselves that hold us back from writing! For example, have you ever thought "I will write when I feel ready"? This is the first myth we tell ourselves. The reality is – you may never feel ready! So, you need to start even when you do not feel ready.
"Hugh was a really great presenter. I have been to lots of workshops over the years, and I definitely feel the most motivated and prepared to get writing now than I have after any other"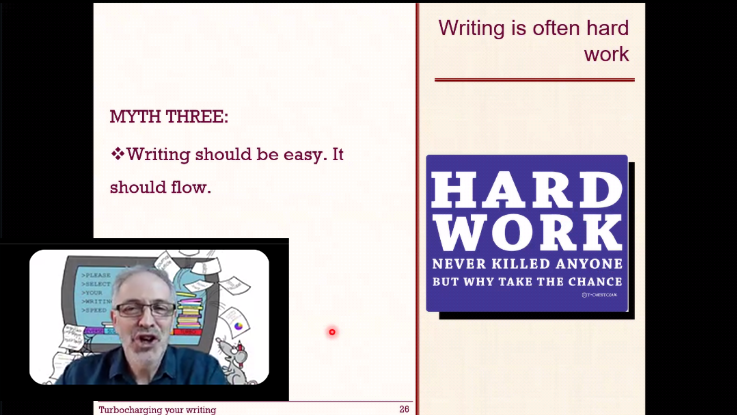 Other insights from the workshop:
Any writing is writing, no matter how bad it is.
Micro steps: Divide the paper (or any task) into very small (micro, or even nano) manageable steps to be accomplished one by one. Finishing these will create small feelings of accomplishment to help motivate you to keep progressing!
The University of Manchester's Academic Phrasebank is an excellent resource to improve the phrasing of your paper, especially for non-native speakers of English.
"The Next Thing" concept: When writing a paper, it is very helpful to write a note to yourself in your document once you finish writing for the day. The note can be used to remind yourself what you were working on, what you need to write next, and any other helpful messages. This will decrease the time you spend wondering what to do when you re-open your work.
The 80/20 rule: 80% of your writing project will likely be finished with only 20% of your total efforts towards the project. The remaining 20% of work required to finalise and polish your writing will take twice as much effort as writing your first draft! One good approach to help progress your writing project, is to share your draft with someone (supervisor, colleague, etc.). Sharing your draft will help you identify what needs editing, allowing you to progress with the work.
We had a lot of positive feedback from the workshop attendees:
"Amazing speaker, relatable and useful topic, with nice scientific atmosphere. It's a relieved to know that I am not the only one struggling with writing. Thank you, Dr. Hugh Kearns for the insight. And thank you for the organizer for the specifically lively event"

Dianika Lestari
"I think that the workshop was very informative and helpful. It helped me realize that writing a research paper is not as difficult as I might have thought. After the workshop, I was determined to finish a paper that I have been procrastinating for so long"

Nguyen Xuan Dat
We thank everyone who participated. We're happy to say it was a successful event!
If you missed out on the workshop or would like to know more about the tips and insights, iThinkWell website includes plenty of free content to help your writing projects succeed.